In the world of NASCAR, William Byron is a name synonymous with talent, determination, and an unwavering passion for racing. But beyond the racetrack, there's another chapter to his story that has been captivating fans and adding depth to his journey—a loving relationship with his girlfriend, Erin Blaney.
As Byron continues to make headlines with his remarkable performances, including his recent convincing win at Watkins Glen International, it's his enduring bond with Erin that offers a heartwarming glimpse into the man behind the wheel. In this article, we delve into the dynamic between William Byron and Erin Blaney and explore their shared journey.
Who Is William Byron's Girlfriend?
William Byron and his girlfriend, Erin Blaney, have been capturing the hearts of NASCAR fans with their loving and supportive relationship. Erin Blaney, born on March 12, 1997, is no stranger to the world of racing. She hails from a prestigious racing family, making her connection with William Byron even more special.
Erin's lineage is steeped in racing heritage. She is the daughter of the semi-active NASCAR racer David Blaney and his wife, Lisa. David Blaney's name is well-known in the racing world, and Erin's grandfather, Lou Blaney, is a legendary figure in dirt track racing. Additionally, Erin has two siblings, one of whom is her older brother, Ryan Blaney, a prominent figure in the NASCAR Cup Series.
Erin's educational journey took her to the University of Alabama, where she pursued a bachelor's degree in human environmental sciences with a focus on public health education and promotion. During her college years, Erin balanced her studies with work at a boutique and engaged in valuable internships, including at the Make-A-Wish foundation and even in Ireland.
After completing her education, Erin's passion for making a difference led her to become the executive director of the Ryan Blaney Family Foundation in 2019. Her previous volunteer work with the Alzheimer's Association showcases her commitment to charitable causes and community service.
Also Read: Meet Tish Cyrus' Husband As The Couple Ties The Knot
Inside Erin Blaney and William Byron's Relationship
The love story between Erin Blaney and William Byron began in 2019, and it quickly became evident that their relationship was something special. They didn't shy away from sharing their love and happiness on social media, allowing fans to witness their journey together. Despite their busy schedules, they made time to attend races together, further solidifying their bond.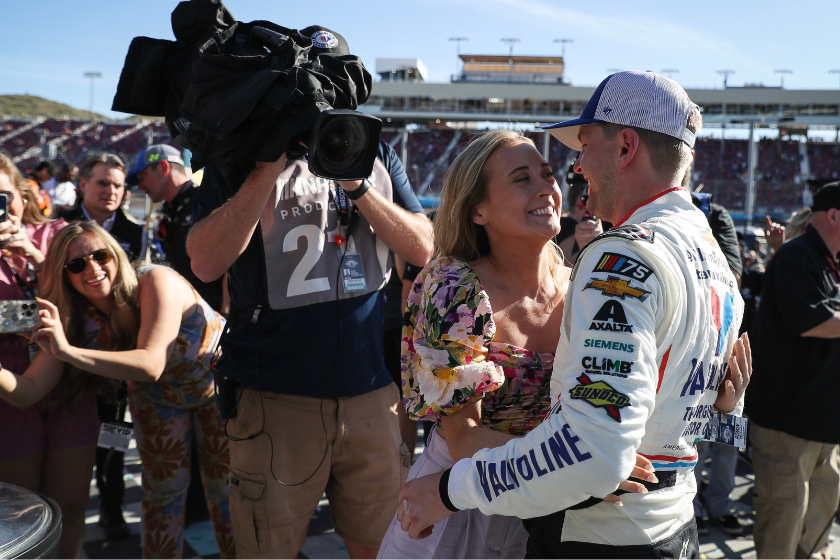 Also Read: Who Is David Copperfield's Wife? Relationship Info
In a heartwarming gesture, Erin surprised William Byron after he clinched victory at the Clyde Hart Memorial. Byron had been focusing on his preparations for the NASCAR season opener, and her unexpected presence at the race was a touching testament to their love and support for each other. This kind of thoughtful gesture speaks volumes about the depth of their connection.
As their relationship blossoms, fans eagerly anticipate the couple's plans for the future, which reportedly include marriage. Erin Blaney and William Byron continue to be an endearing and inspiring couple in the world of NASCAR, where their love story adds a heartwarming dimension to the thrill of racing.