Iga Świątek, the remarkable Polish tennis sensation, has not only taken the tennis world by storm with her incredible skills but has also garnered significant attention for her personal life. As a fiercely private individual, Świątek has managed to keep her romantic endeavors well-guarded from the public eye. Tennis enthusiasts and fans worldwide have been curious about her relationship status, prompting the inevitable question: "Who is Iga Świątek's boyfriend? Is she dating anyone?"
In this article, we delve into the intriguing realm of Świątek's personal life, exploring her journey as a professional athlete and her stance on matters of the heart. While she's made headlines for her impressive accomplishments on the court, we aim to uncover any hints or secrets about her romantic life and whether the world's top-ranked female tennis player is currently in a relationship.
Is Iga Swiatek Dating Anyone?
Iga Swiatek is presently not known to be in a romantic relationship. There is no public information indicating that she has ever been in a relationship before, and she has maintained a private stance regarding her personal life. As of 2023, she remains single. While there have been some speculations suggesting that she might be involved with someone privately, there is no official confirmation of such rumors.
Also Read: Who Is Nancy Mace's Husband? Meet Her Fiance Patrick Bryant
Know About Iga Swiatek's Early Life
Iga Świątek, born on May 31, 2001, in Warsaw, Poland, into a sports-oriented family. Her father, Tomasz Świątek, was a former Olympic rower who participated in the 1988 Seoul Olympics in the men's quadruple sculls event, while her mother, Dorota Świątek, is an orthodontist. Iga also has an older sister named Agata, who pursued a career in dentistry.
The Świątek family's strong sports background played a pivotal role in shaping Iga's early interests. Her father, in particular, encouraged his daughters to pursue individual sports to enhance their chances of success. Agata initially ventured into swimming but transitioned to tennis due to some challenges in swimming. Iga followed in her sister's footsteps, partly motivated by sibling rivalry and her admiration for Agata.
Iga Świątek's journey in tennis began to take shape as she decided to follow her sister's path. In 2013, Agata briefly competed on the ITF Junior Circuit when she was around 15 years old but had to discontinue her tennis career due to injury issues.
At the age of 14, Iga started her tennis training at Mera Warsaw and later moved to Legia Warsaw, where she honed her skills and embarked on a promising career in the world of professional tennis, eventually becoming one of the brightest young stars in the sport.
Also Read: Who Is Jelena Ostapenko's Husband? Is She Married To Anyone?
Know About Iga Swiatek's Tennis Career
Iga Natalia Świątek has already left an indelible mark on the world of professional tennis, securing her place as one of the sport's brightest stars and a symbol of Polish tennis excellence. As of the latest available information, she holds the prestigious title of world No. 1 in women's singles by the Women's Tennis Association (WTA).
Świątek's legacy is highlighted by her remarkable achievements in the Grand Slam events. She is a four-time major singles champion, with victories at the French Open in 2020, 2022, and 2023, and the US Open in 2022. Notably, she made history as the first player representing Poland to claim a major singles title, a feat that will undoubtedly inspire generations of aspiring Polish tennis players.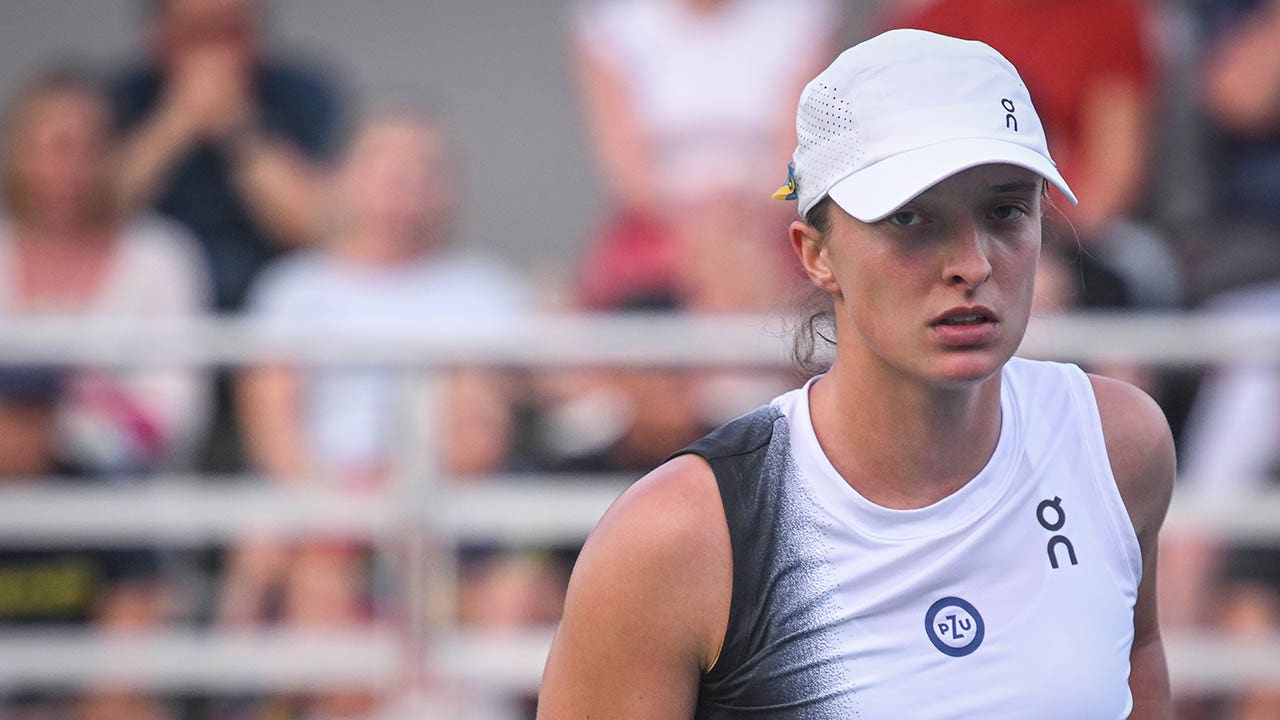 Throughout her career, Świątek has amassed a total of 15 WTA Tour-level titles, showcasing her consistent excellence on the tennis circuit. Her rapid rise to stardom was evident when she entered the top 50 of the WTA rankings at just 18 years old, following her first Tour final and a fourth-round appearance at the 2019 French Open.
In 2022, Świątek's achievements reached new heights as she secured the world No. 1 ranking, becoming the first Polish player, male or female, to attain this position in singles. Her accomplishments were further solidified by a 37-match winning streak, the longest on the WTA Tour in the 21st century.
Known for her versatile and all-court playing style, Świątek has captured the hearts of tennis fans worldwide. She has been recognized with several awards, including the WTA Fan Favorite Shot of the Year in 2019 and the WTA Fan Favorite Singles Player of the Year in 2020. In 2023, she earned prestigious accolades such as the L'Équipe Champion of Champions and Polish Sports Personality of the Year, as well as a spot on Time's annual list of the 100 most influential people in the world.
Iga Świątek's legacy extends beyond her on-court achievements, as she continues to inspire and make her mark on the global tennis stage.