Former American professional baseball pitcher Colbert Michael Hamels, often called "Hollywood," was playfully bestowed by former Phillies teammate Ryan Howard due to his laid-back California style. Notably, Hamels' baseball career saw standout moments, including being named MVP during the 2008 National League Championship Series and the 2008 World Series, contributing to the Philadelphia Phillies' second franchise title. His journey later took him from the Phillies to the Texas Rangers and eventually the Chicago Cubs. Despite signing with the Atlanta Braves in 2019, Hamels' time there was marred by arm injuries, and he announced his retirement following unsuccessful comeback attempts with the Los Angeles Dodgers and San Diego Padres.
Lately, Cole Hamels has been spotted alongside actress Rebekah Graf following his retirement. Graf has shared intimate photos of their time together, leading to speculation about his potential separation from his wife, Heidi Strobel, whom he has been married to since 2008. In this article, we'll delve into their relationship and examine the rumors surrounding them.
A Look Into Cole Hamels' New Rumored Relationship
Cole has emerged in the spotlight alongside actress Rebekah Graf, sparking rumors of his separation from his wife. Graf shared a series of posts on Instagram, including six photos and two videos. In some images, the couple appears poised to share a kiss, while others depict Hamels, 39, and Graf, 41, posing together. A video captures Hamels helping Graf remove a thorn from her hand, humorously referencing her penchant for touching cacti. A subsequent post showcases the couple sharing a kiss against a backdrop of fireworks.
Graf, a Texas native, gained recognition for her role as Heather Locklear in Netflix's "The Dirt" in 2018. The social media posts with Graf have sparked speculation about Hamels' relationship status and have drawn attention to his post-baseball endeavors.
Also Read: Jared Bridegan, Microsoft Executive Killed By Wife: Full Story Inside
Meet Cole Hamels' Wife, Heidi Strobel
Heidi Strobel, the wife of former Major League Baseball pitcher Cole Hamels, has a fascinating and multi-faceted background that adds depth to her relationship with the celebrated athlete. Born in Buffalo, Missouri, Heidi hails from a small town and grew up with a strong work ethic. In her youth, she even sold eggs from her family's farm and operated a local newspaper, demonstrating her entrepreneurial spirit from an early age.
Heidi's educational journey led her to graduate from Drury University with a degree in exercise physiology and education. Her academic achievements reflected her determination and commitment to personal growth.
Inside Heidi And Cole Hamels' Relationship
The love story between Heidi and Cole Hamels is a captivating one. They first crossed paths during spring training in 2004 when Heidi, then a contestant on the popular reality TV show Survivor, threw out the ceremonial first pitch at one of the Philadelphia Phillies' pre-season games in Clearwater, Florida. This chance encounter marked the beginning of a remarkable relationship.
Their connection deepened over time, leading to Cole asking for Heidi's autograph and eventually persuading her to go on a date with him. In 2006, Cole proposed to Heidi, and they celebrated their marriage on New Year's Eve of the same year. Their union not only brought them happiness but also laid the foundation for a family full of love and purpose.
Also Read: Who Is David Muir's Boyfriend? Is He A Gay?
Know About Heidi And Cole Hamels' Kids
The couple's journey took an altruistic turn when they decided to adopt a child from Ethiopia. However, just before their planned trip to meet their adopted child, Heidi discovered she was pregnant. Faced with this joyful surprise, they postponed the adoption. Their first biological child, Caleb, was born in 2009, followed by the arrival of their son Braxton in 2011.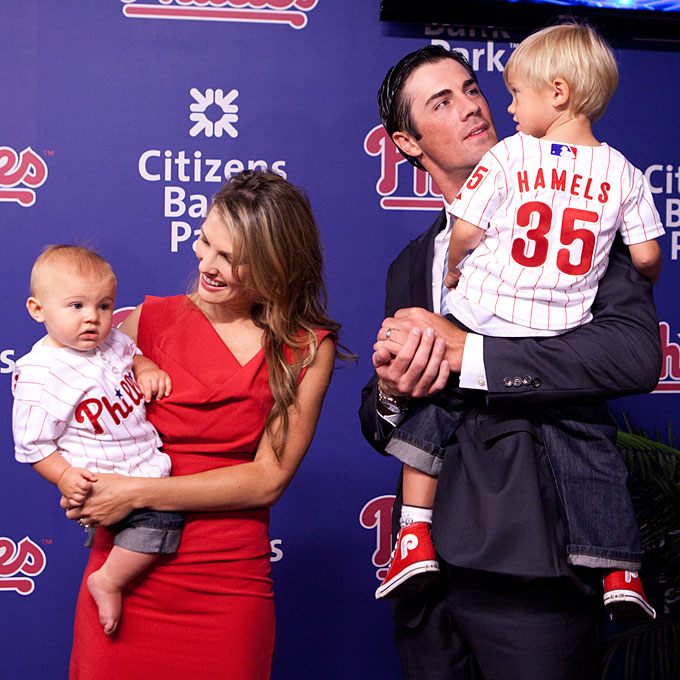 In a heartwarming act of compassion and commitment, Cole and Heidi adopted a baby named Reeve from Ethiopia in 2012, solidifying their desire to expand their family through both biological and adoptive means. Their family continued to grow with the addition of their daughter, Mackenzie, in 2016.
However, recent Instagram posts by actress Rebekah Graf, alongside Cole Hamels, have fueled speculation about his separation from his wife Heidi Strobel. The intimate photos and videos suggest a new romantic relationship. However, official statements from the couple or their representatives are awaited to confirm any separation.