Larry Wayne "Chipper" Jones Jr., a name synonymous with excellence in Major League Baseball, is not just a baseball legend but also a man whose personal life has captivated the public's interest. While he's celebrated for his extraordinary career with the Atlanta Braves, spanning from 1993 to 2012, there's more to the story than just his baseball accolades.
This article delves into the intriguing facets of Chipper Jones' life off the field, providing a closer look at the woman who holds his heart today, as well as the past relationships and personal challenges that have shaped the man behind the iconic baseball career. From childhood sweethearts to controversial affairs and multiple marriages, this exploration offers a comprehensive understanding of the complexities that come with fame and the enduring human spirit that defines Chipper Jones.
Know About Chipper Jones' Current Wife
Chipper Jones' wife, Taylor Higgins, is a woman of diverse talents and qualities that have captured the heart of the Atlanta Braves legend. Taylor's journey to becoming Mrs. Chipper Jones is marked by her fascinating background and her ability to connect with Chipper on a profound level.
Before her marriage to Chipper in June 2015, Taylor had a unique career as a model. She gained recognition through her photoshoots for Playboy, particularly as the Playboy Coed of the Week. Under the stage name Lexi Ray Taylor, she showcased her beauty and charisma, leaving an indelible mark in the world of modeling. However, Taylor's interests extend far beyond the glamour of modeling.
Taylor's pursuit of education is also noteworthy. She completed her nursing education at the University of Kentucky, highlighting her commitment to a profession focused on caring for others.
What truly sets Taylor apart is her ability to connect with Chipper on a profound level. Their love story began in 2012, shortly after Chipper's divorce from his second wife, Sharon. At first, Chipper was hesitant about marriage and children, but Taylor's unwavering faith in their relationship ultimately changed his perspective. Her understanding and compatibility with Chipper's interests, particularly hunting and outdoor activities, played a pivotal role in their bond.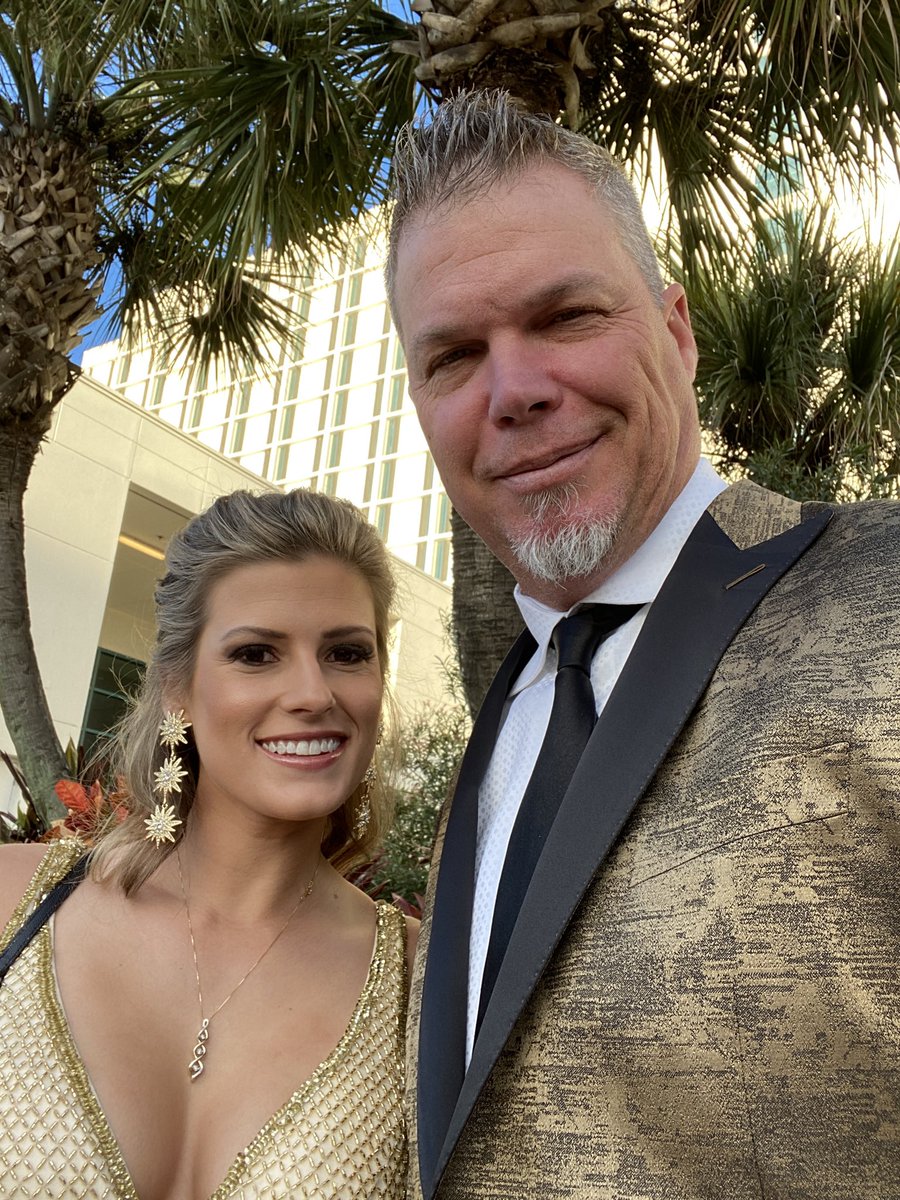 What makes Taylor exceptional in Chipper's eyes is the acceptance and love she receives from his family. Unlike his previous marriages, where his family had reservations, Taylor has seamlessly integrated into their lives, creating a harmonious and loving family environment. This unique connection has brought newfound happiness and stability to Chipper Jones' life, making Taylor Higgins not only his wife but also a cherished member of his family.
Also Read: Know About Yevgeny Prigozhin's Wife As He Dies In a Plane Crash
Know About Chipper Jones' Past Relationship

Chipper Jones' past marriages have been marked by both personal growth and challenges, ultimately shaping the man he is today. His first wife, Karin Fulford, played a significant role in his early life. They married in 1992 but parted ways in 2000. Karin is an accomplished individual, holding a Ph.D. from Georgia State University and working as a Master Life Coach. Her focus on spirituality and transformation is evident in her work. Her personal journey of healing and awakening following their divorce has led her to empower others through her spiritual wisdom and writing. Karin's contributions as a blogger for the Huffington Post and co-authoring "The Fatherless Daughter Project" demonstrate her commitment to uplifting and supporting women.
Also Read: Getting To Know Kenny Williams' Wife Amid His Departure From White Sox
Jones also has a brief extramarital affair with Jennifer, resulting in the birth of an illegitimate son in 1998. This revelation caused a significant media uproar and put immense strain on Chipper's marriage to Karin. The couple ultimately divorced in 2000, bringing an end to their relationship.
In contrast, Chipper's second marriage to Sharon Logonov in 2000 ended in divorce in 2012. Their 12-year union produced three children, Tristen Jones, Shea, and Trey. While their marriage had its own chapter in Chipper's life, it ultimately ended, paving the way for his subsequent marriage to Taylor Higgins, who brought newfound happiness and stability into his life.