French tip nails are a timeless classic, but they're not just for the colder months or formal events. In fact, French tip nails can be a perfect choice to brighten up your summer look. Whether you're lounging by the pool, hitting the beach, or attending a summer wedding, French tip nails can add a touch of elegance and playfulness to your summer style. In this article, we will explore some fabulous French tip nail designs for the sunny season of 2023.
Explore Some Frech Tip Nail Designs, That You Can Flaunt In Summer
Vibrant Colorful Tips: When we think of summer, we think of vibrant colors and sunny days. Incorporating these elements into your French tip nails can be a delightful choice. Opt for bright and cheerful colors like coral, turquoise, or lemon yellow as your nail tips, paired with a soft pastel or nude base. These colorful French tips will instantly elevate your summer mood and match your colorful summer wardrobe.
Tropical Paradise: Bring the tropical vibes to your fingertips with a palm tree or hibiscus flower nail art. Choose a white or pale pink base and accentuate your French tips with delicate tropical designs. These nails will make you feel like you're on a summer vacation, even if you're stuck at the office.
Fruity Fun: Embrace the fruity side of summer by incorporating fruit-inspired French tip designs. Think watermelon, pineapple, or strawberry-themed nails. These cute and playful nail designs will not only brighten your day but also your overall summer look.
Also Read: What Is Builder Gel? A Comprehensive Guide
Beachy Vibes: Summer is synonymous with the beach, so why not let your nails reflect that? Go for sandy beige or soft blue French tips, and add some seashell or starfish nail art for that perfect beachy touch. These nails are ideal for those long walks along the shoreline.
Sunset Ombre: Sunsets are one of the most beautiful aspects of summer evenings. Capture the magic of a summer sunset on your nails with a sunset ombre French tip design. Blend warm colors like orange, pink, and purple for a gradient effect that mirrors the stunning colors of the setting sun.
Nautical Nails: Sail away with a nautical-themed French tip design. Navy blue or crisp white tips paired with anchor or sailor stripe accents will give your nails a maritime charm. These nails are perfect for sailing enthusiasts or anyone craving a coastal getaway.
Tropical Sunset Glitter: Add some sparkle to your summer with glittery French tips. Combine the classic white tips with a glittery ombre effect that mimics the shimmer of a tropical sunset. These nails will catch the sunlight and make your hands sparkle like never before.
Also Read: How To Use A Cuticle Pusher? A Comprehensive Guide
Floral Fantasy: Summer is the season of blooming flowers, and your nails can be no exception. Opt for a light pink or nude base and adorn your French tips with delicate floral designs. Whether it's daisies, roses, or sunflowers, floral French tip nails are an elegant choice for any summer occasion.
Funky French Tips: Don't be afraid to get creative with your French tip nails this summer. Experiment with abstract patterns, geometric shapes, or even asymmetrical designs. Mixing and matching bold colors and styles can result in a unique and eye-catching manicure.
Fruit Slice Accents: Add a touch of whimsy to your French tip nails by incorporating fruit slice accents. Whether it's a slice of lime, orange, or watermelon, these tiny details can turn your nails into a summer masterpiece.
Sunshine Yellow French Tips: Kickstart your summer nail journey with a burst of sunshine! Yellow French tips are perfect for channeling those warm, happy vibes. Whether you opt for a bright lemon yellow or a soft pastel shade, this design will radiate positivity and brighten up any summer outfit.
Beachy Vibes with Teal Tips: Imagine the tranquil ocean waters as you sport teal French tips. This shade embodies the calming essence of the beach. Combine it with a white or sandy base for a refreshing coastal look that's perfect for a day by the seaside or just lounging by the pool.
Tropical Coral and Turquoise Combo: Nothing says summer like the colors of a tropical paradise. Try a delightful combination of coral and turquoise for a lively and beachy appearance. These hues work harmoniously to create an exotic and vibrant style that's ideal for a summer getaway.
Palm Tree Paradise Nails: Transport yourself to a tropical paradise with palm tree-themed French tips. Incorporate palm fronds, coconuts, or sunset silhouettes to capture the essence of a beachy vacation. This design is a playful nod to the lazy days of summer and will leave you dreaming of sandy shores.
Watermelon-Inspired Tips: What's more refreshing than watermelon on a scorching summer day? Create a watermelon-inspired French tip design with a juicy green tip and a sweet pink base. It's a fun and fruity choice that'll make your nails look good enough to eat.
Fruit Salad French Tips: Embrace the fruity side of summer with a fruit salad-inspired French tip design. Paint tiny strawberries, pineapples, oranges, and kiwis on your nails for a refreshing and playful appearance. It's a delightful way to celebrate the abundance of seasonal fruits.
Floral Fiesta French Tips: Summer is the season of blossoms, so why not adorn your nails with floral patterns? Choose a variety of vibrant colors to represent different flowers, and let your nails become a blooming garden. This design is perfect for adding a touch of nature to your look.
Sandy Beach and Seashell Tips: Bring the beach to your fingertips by incorporating sandy textures and seashell accents. Use soft, sandy beige as the base color and add intricate seashell designs on the tips. This design captures the serene beauty of the shoreline.
Tropical Sunset Ombre: Capture the mesmerizing hues of a summer sunset with an ombre French tip design. Blend warm shades of orange, pink, and purple for a stunning gradient effect. It's the perfect choice for adding a touch of magic to your summer evenings.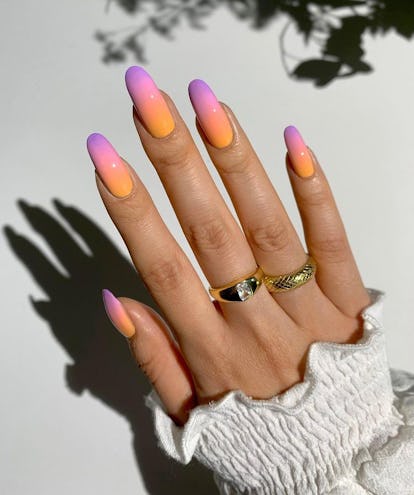 Popsicle-Inspired Tips: Emulate the joy of indulging in a colorful popsicle on a hot day with this nail design. Use a spectrum of bright, fruity colors on the tips, and create a melting effect towards the base. These playful nails will keep you feeling cool all summer long.
Tropical Bird Paradise: Channel the vibrant plumage of tropical birds by painting exotic bird feathers on your French tips. Incorporate shades of azure blue, emerald green, and sunny yellow to capture the essence of these magnificent creatures. This design is a true celebration of summer's vivacity.
Sunkissed Coral and Gold Tips: Get that sunkissed glow on your nails with a stunning combination of coral and gold. The coral tips paired with glittering gold accents evoke the feeling of a warm summer evening. This design exudes elegance and radiance, making it perfect for special summer occasions.
French tip nails are a versatile and timeless manicure choice that can be adapted to suit any season or occasion. During the sunny days of summer, let your nails reflect the vibrancy and warmth of the season. Whether you opt for bright colors, tropical themes, or beachy vibes, there are countless ways to elevate your French tip nails and add a splash of sunshine to your summer style. So, go ahead and embrace the spirit of summer with these fabulous French tip nail designs in 2023!